Official Special Event Locations
Get up close to the action! These sponsors are planning special events for you on July 4. Contact them to learn more.
SAN DIEGO MIDWAY AIRCRAFT MUSEUM
Watch from the flight deck of the USS Midway. The Midway reopens at 6:30 p.m. for flight deck "family picnic-style" viewing of the fireworks. Live entertainment, activities for the kids, flight simulators, food concessions, and more. A Family Fun Fourth! For Tickets visit the Midway website or call 619-544-9600 for more details.
City Cruises Anchored by Hornblower
The best views of fireworks are from the water! Get up as close as you can to the amazing Big Bay Boom Fireworks onboard Hornblower's July Fourth Dinner Cruises. Enjoy 3 hours on the yacht with a delicious buffet dinner, DJ entertainment, and then move up to the sky deck for the amazing fireworks displays! 619-686-8715. Hornblower's website has more details.
FLAGSHIP CRUISES AND EVENTS
San Diego's Fireworks show is going to light up the city this year! Enjoy the 4th of July by joining Flagship Cruises and Events on either their Star-Spangled Dinner Cruise or the Fireworks Spectacular Spectator Cruise. Both cruises will be leaving from 990 N. Harbor Drive next to the USS Midway. To make a reservation go to flagshipsd.com/cruises/4th-july-fireworks-cruises or call 619-522-6155. Happy Birthday America from everyone at Flagship Cruises & Events! Visit Flagshipsd.com for more details.
SAN DIEGO MARITIME MUSEUM
From the decks of the America, Berkeley and the Star of India, enjoy the Big Bay Boom July 4th Fireworks Show along the North Embarcadero. Check out what's happening at San Diego Maritime Museum web site or call 619-234-9153.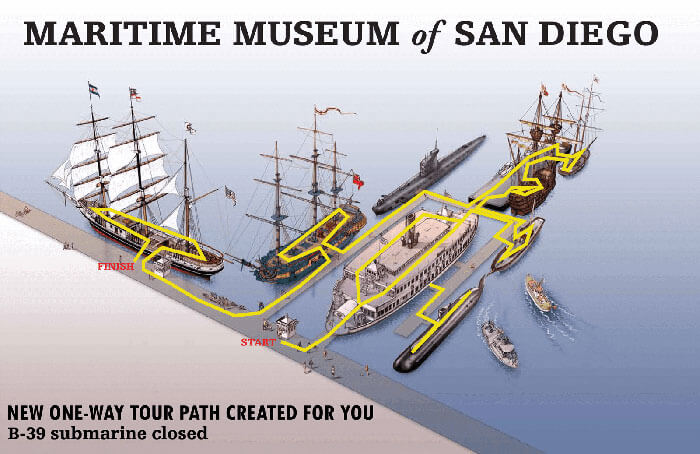 Click image for larger version
STAR SPANGLED POPS
Come listen to the San Diego Symphony Pops at the Embarcadero Marina Park South. Enjoy the fireworks and the symphony at the same time. For more info or reservations, go to The Rady Shell at Jacobs Park website.