Where to Watch
With four locations there are plenty of options for where you can see the fireworks. Plan to get there early. Bring your lawnchairs and friends down to San Diego bay to watch the show. Click here for more transportation and parking information.
Boaters…Remember: SAFETY FIRST
Boaters, please observe the 300 yard safety zones around the barges. Please keep a lookout for boats around you.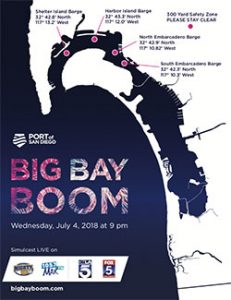 Download the Barge Chart (PDF file)
The Coast Guard, Harbor Police and special patrol vessels will assist in providing safety on the water along with the Harbor Police, City of San Diego and Imperial Beach Police will assist in traffic coordination and public safety on land.