Transportation and Parking
Come to San Diego Bay for the fireworks – but try not to bring your car.
Parking along San Diego Bay fills up quickly. Get there early and plan where to park. We strongly encourage you to use our transportation partners.
Big Bay Boom 2021 Parking
Our transportation partners will help move you in and out of the bay. The Port of San Diego has set up:
Expanded 4th of July train, trolley and bus service from MTS
New: Guaranteed Parking with pre-purchased tickets
Parking Meters are Free on the July 4th. Posted time limits at meters and payboxes will be enforced at Embarcadero, Shelter Island and Spanish Landing
Trolleys, Buses, Trains – Metropolitan Transit System
Metropolitan Transit System
MTS offers:
Expanded Trolley service to the Big Bay Boom fireworks extravaganza!
Free parking at MTS Park & Ride lots throughout the system.
MTS Compass Cloud ticket can be purchased on your smart phone device
MTS' FRIENDS RIDE FREE promotion is in effect. A friend may ride free with a fare-paying customer on all MTS routes on July 4, 2018.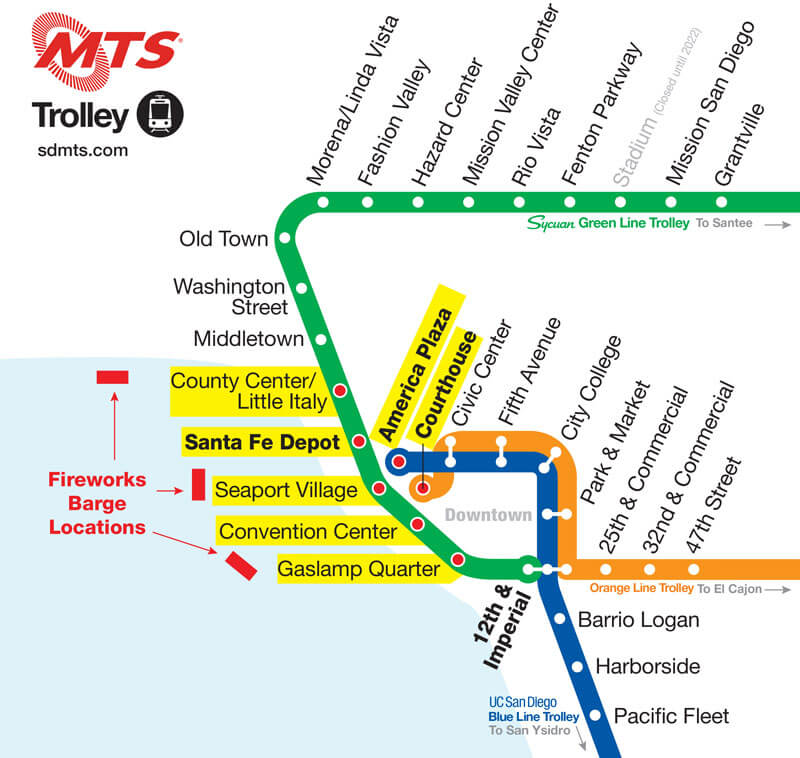 After the Fireworks, Green Line trains will depart every 7.5 minutes or better toward Santee until 11:30pm, with the last train to Santee departing Twelfth & Imperial at 12:06am. The greatest frequency will be immediately after the end of the fireworks. Blue and Orange Line trains will depart every 15 minutes immediately after the conclusion of the show as needed, then every 30 minutes until just before midnight.
Buy a Bus Ticket on your Smart Phone
Use Compass Cloud on your Apple or Android phone to buy day passes anytime, anywhere. Travel with the whole family on one smartphone with the multiple rider option. Regional Day passes are good on MTS buses & Trolleys, as well as NCTD SPRINTER & BREEZE. NCTD COASTER fares are also available on Compass Cloud. Visit sdmts.com/compass-cloud for full details
Coaster — North County Transit District
The Coaster takes you a few blocks from the Embarcadero. Pick up the coaster from Oceanside, Carlsbad, Encinitas, Solana Beach, Sorrento Valley, and Old Town For more on the coaster see
www.gonctd.com
Guaranteed San Diego Bay Parking
Reserve a parking space with rates up to 50% better than drive-up.
We recommend booking convenient and affordable parking, in advance, through parking reservation app SpotHero. Visit our guaranteed parking page to find out more.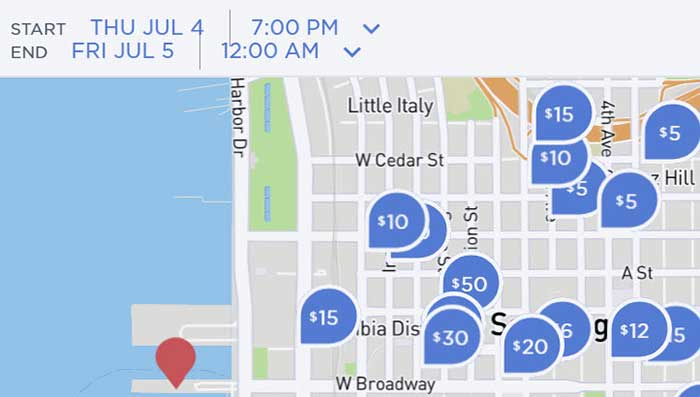 The Santa Fe Depot train station is only a few blocks from the Embarcadero. The Pacific Surfliner route goes up the California coast. For the train schedule see
www.amtrak.com
Additional Parking around San Diego Bay Page during the 4th of July.
San Diego Convention Center & Hilton San Diego Bayfront Hotel Garages
The Ace Parking garage below the San Diego Convention Center and the garage next to the Hilton San Diego Bayfront Hotel have parking facilities; see parking details for rates.
Harbor Island
ABM Parking has a 620-space lot open at the T intersection on Harbor Island for $20 per vehicle.
Airport Parking
The San Diego Airport is providing discounted parking for attendees at the following location. Note: Attendees can also park in any of the terminal lots at the posted rates: parking rates are in half-hour increments with a max daily rate of $32, so Long-Term Lot 1 would be the best option.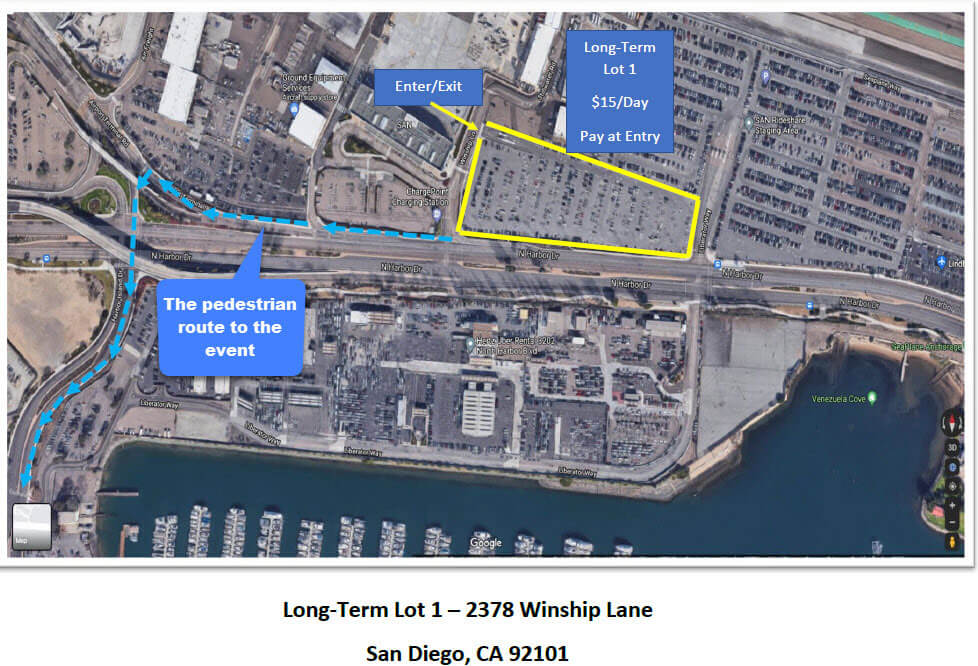 Long-Term Lot 1
2378 Winship Lane San Diego, CA 92101
$15 dollars a day, pay on entry
Street Parking
All metered parking on streets will be free on July 4th. Posted time limits at meters and payboxes will be enforced at Embarcadero, Shelter Island, and Spanish Landing