Boaters
With four locations there are plenty of options for where you can see the fireworks from your boat on San Diego Bay.
BOATERS REMEMBER – SAFETY FIRST!
Observe the 1,000 feet safety zones around the barges.
Keep a lookout for boats around you.
Have a life jacket for each person on board.
Use the proper signals and navigation lights.
Arrive before dark.
All boaters interested in viewing the event on the water are asked to be extra cautious and pay special attention to the Coast Guard Auxiliary patrol boats with flashing yellow lights. They will be ensuring boaters do not get within the 1,000 feet perimeter safety zones around the four fireworks barges.
All boaters are also encouraged to review the ABCs of California Boating . A new law requires children under the age of 13 to wear a lifejacket on a vessel of any length.

Download the Barge Chart (PDF)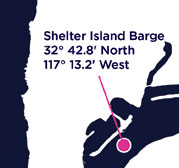 ---
Sensitive areas around San Diego Bay
Boaters to Avoid Eelgrass Beds
Boaters enjoying the fireworks should be conscious of and avoid anchoring within eelgrass habitats. Eelgrass is an important habitat for juvenile fishes, seabirds, and other animals. It is easily damaged by boat anchors and propellers so please avoid anchoring in eelgrass while enjoying the show.
Please see attached map of eelgrass locations in San Diego Bay. Please avoid anchoring in these areas.